2020 was a year like no other, but in the midst of it all, there was a great deal happening in the Australian intellectual property space, as shown by IP Australia's Australian Intellectual Property Report for 2020.
The report shows that trade mark applications in Australia soared whilst Australian standard patents dipped by 2%. The number of information and communication technologies patent filings in Australia and the PCT route reflects the global trend of increased investment in consumer technology.
Patent Filings in 2020
Overall, IP Australia received 29,293 standard patent applications, including divisional applications, a 2% fall from 2019.
International patent applicants were responsible for 92% of the total applications filed in Australia with Australian residents responsible for just 8% of total filings in 2020.
The top 5 international applicants filing into Australia originate from the information and communication technologies sector (See Figure 1). This is consistent with the number of PCT applications filed in 2020 with China-based telecoms giant Huawei Technologies coming in as the top PCT filer in 2020 with 5,464 published PCT applications and the computer technology and digital communication sectors accounting for 17.5% of published PCT applications in 2020.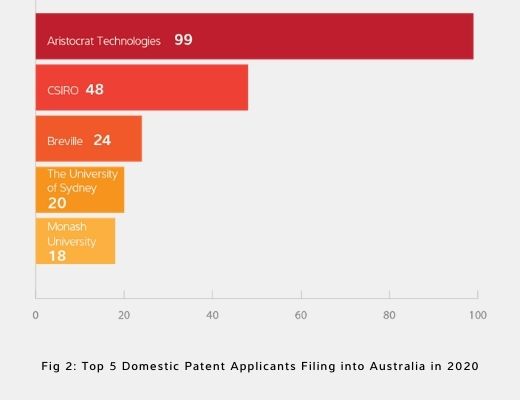 In 2020, the US remained the major source for patent applications, with US applicants named on 45 per cent of all foreign applications in Australia.

Trade Mark Filings in 2020
In 2020, a total of 81,702 trade mark applications were filed in Australia, an increase of 8% from 2019. International trade mark applicants were responsible for 37% of the total applications filed in Australia with Australian residents responsible for 63% of total trade mark filings in 2020. These numbers also reflect the top Madrid filers in 2020 with Novartis in first place followed by Huawei Technologies.
---
This article was prepared by Dr Louisa King, Director of Aperture Insight.
Aperture Insight is a market leader, providing dependable intelligence to its clients locally and globally. Arming them with the best possible knowledge to strategically manage their intellectual property.